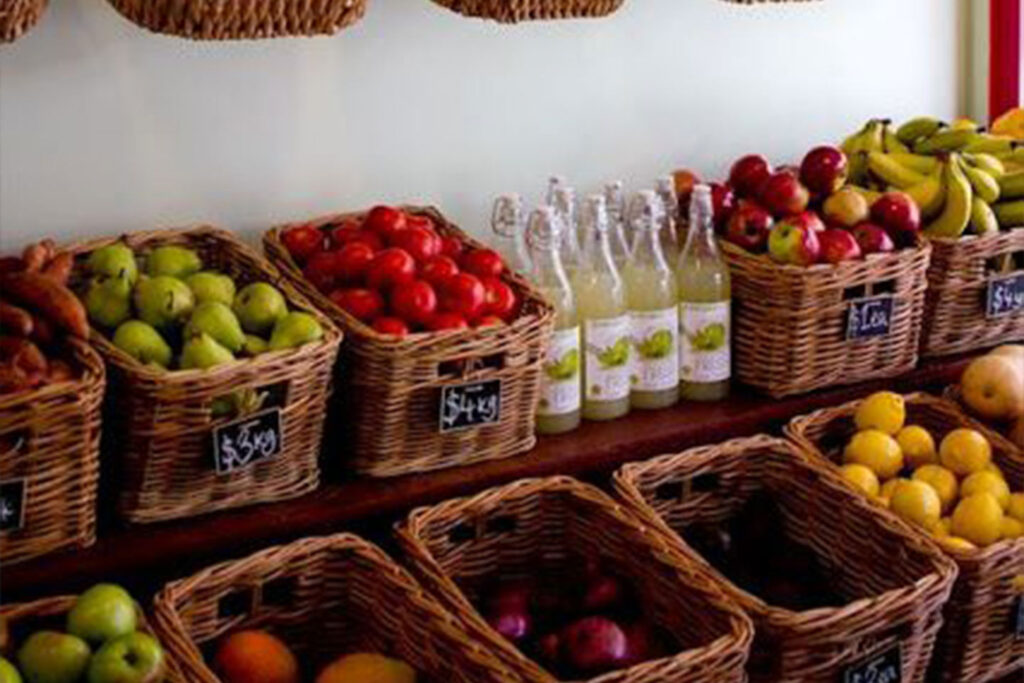 The essence of traditional Mallorca is distilled at its markets. As locals gather in their town's main square to buy fresh local produce and handcrafted treasures, visitors get a glimpse of what life must have been before the island became the tourist magnet it is today. Of course, they're also the perfect place to get your hands on a unique souvenir from your holiday or to sample some of the delicious fruit, veg, cheese, olive oil, wine and cured meats that Mallorca has to offer.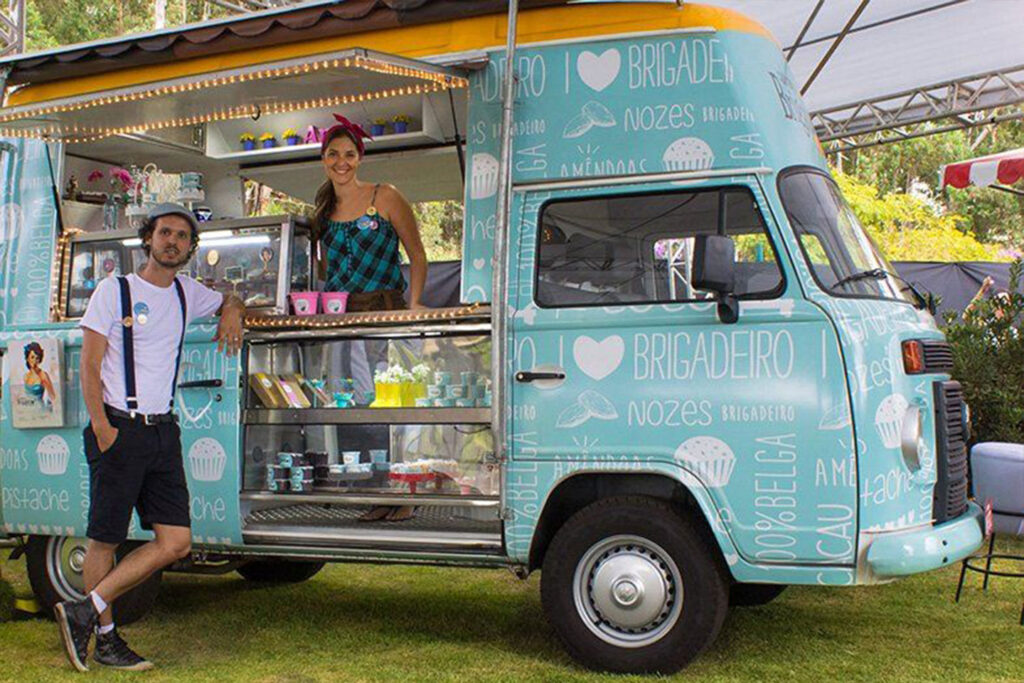 Alcudia Market
One of the largest on the island, Alcúdia Market is for history buffs as the stalls are placed inside the town's ancient walls and near the Roman ruins of Pol·lèntia.
The market is open on Tuesdays and Sundays and it boasts a spectacular setting. The high, old walls of Alcúdia and the pretty town centre within are worth a visit in their own right but there is more to see and do on market day.
The market stalls line the outer walls and continue into the centre of the town itself. The outer stalls sell a selection of clothes and leather goods; belts, bags and wallets. All the stalls here are very similar and you get the impression that the owners all work together or at least have the same boss who supplies them with their goods, some of which have some rather dyslexic spellings on their designer labels.
Inside the walls and near the centre of town itself the stalls become more unique and individual. There are more hand made crafts on offer here with art, pottery, jewellery and hand made soaps on display.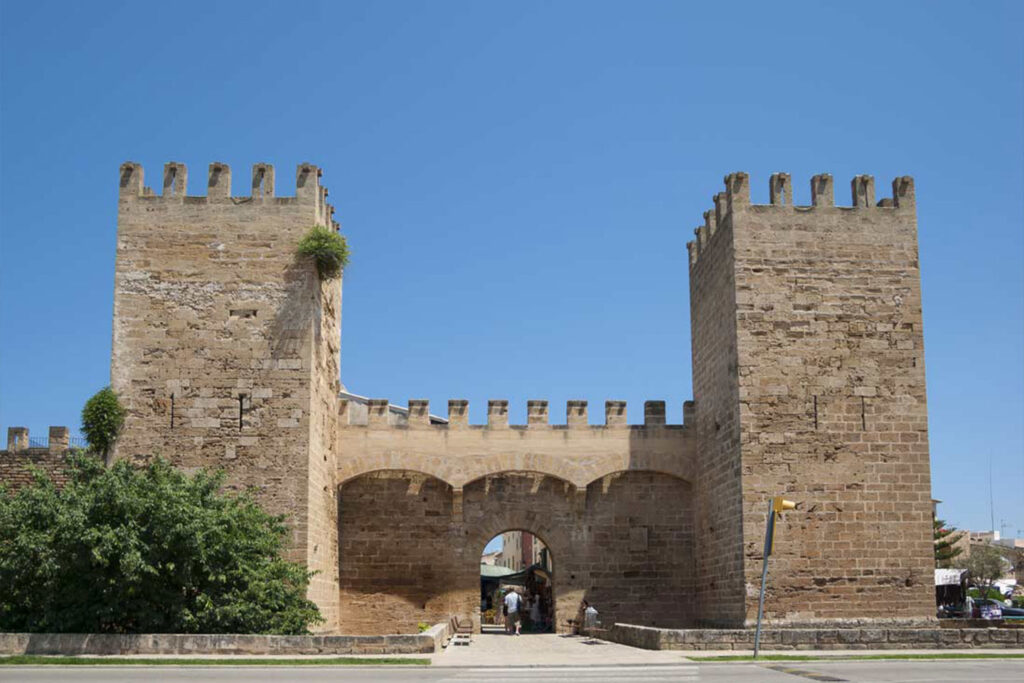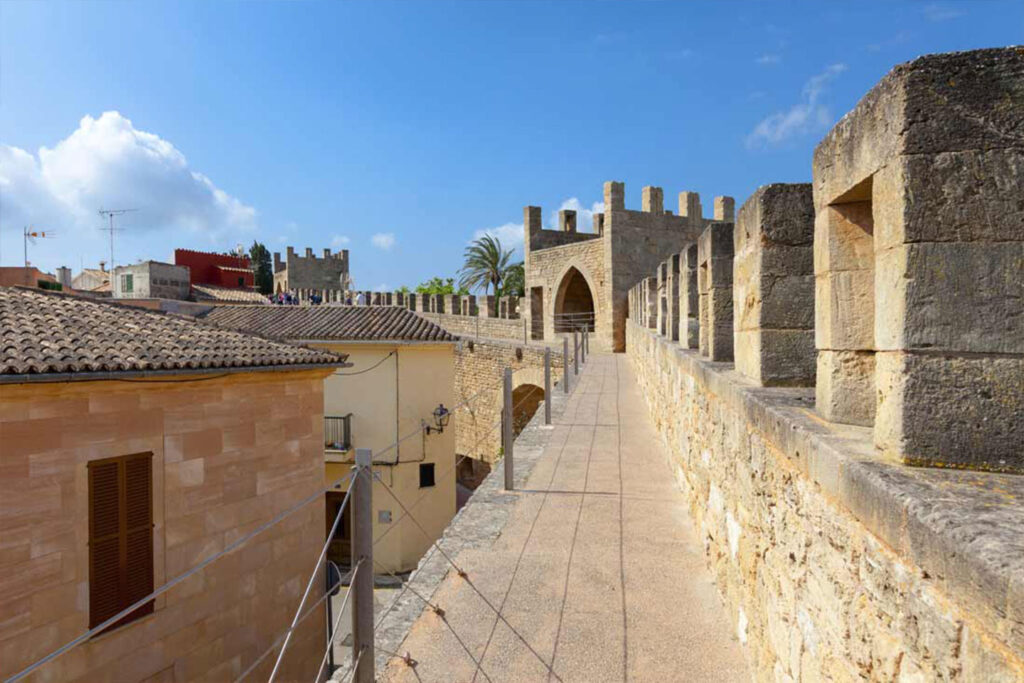 Inca Market
Inca hosts the biggest market in Mallorca, well-known for its handcrafted leather goods, including shoes, bags and jackets.
One of the biggest weekly markets on Mallorca is the one at Inca. Every Thursday morning the streets in the town centre come alive with stalls selling everything from fruit & veg, to shawls, soaps and flowers. There are guided tours available to Inca Market.
Inca is most famous for its leather goods, so expect a large selection of leather shoes, bags and jackets. You can easily spend several hours wandering around the lanes and the hundreds of stalls.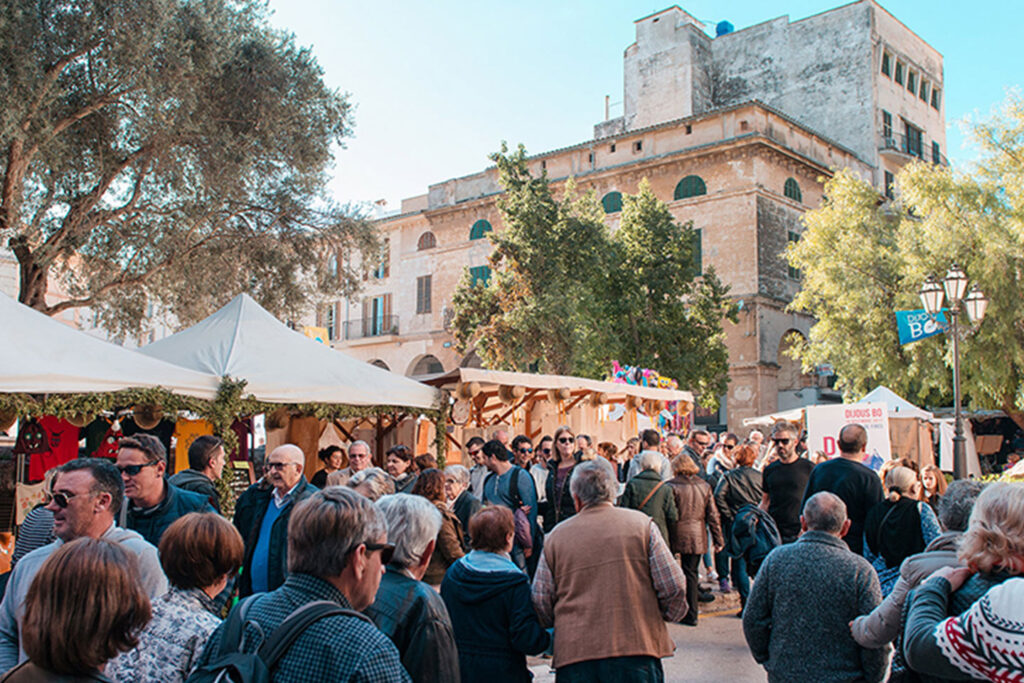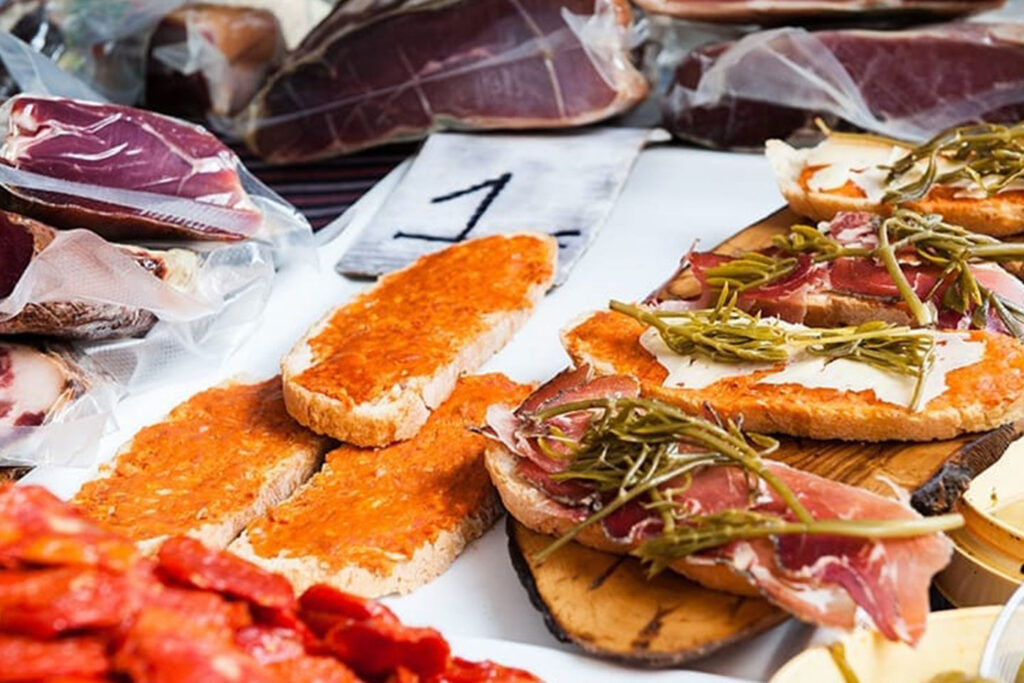 Sineu Market
On wednesdays 9.00h to 13.00h
Established in 1306, this is the most authentic market on the island, and one of the few still selling live animals in Mallorca. For those who want to step back in time.
The market in Sineu is one of the more traditional markets on Mallorca. The main attraction here is the agricultural and livestock market.
Combine the market with a visit to the nearby Els Calderes Country House for a lovely day out.
Sineu itself is a small central town set in beautiful countryside – there is a bus (L400) that runs to Sineu from Can Picafort to Palma, but it might be easier to take car.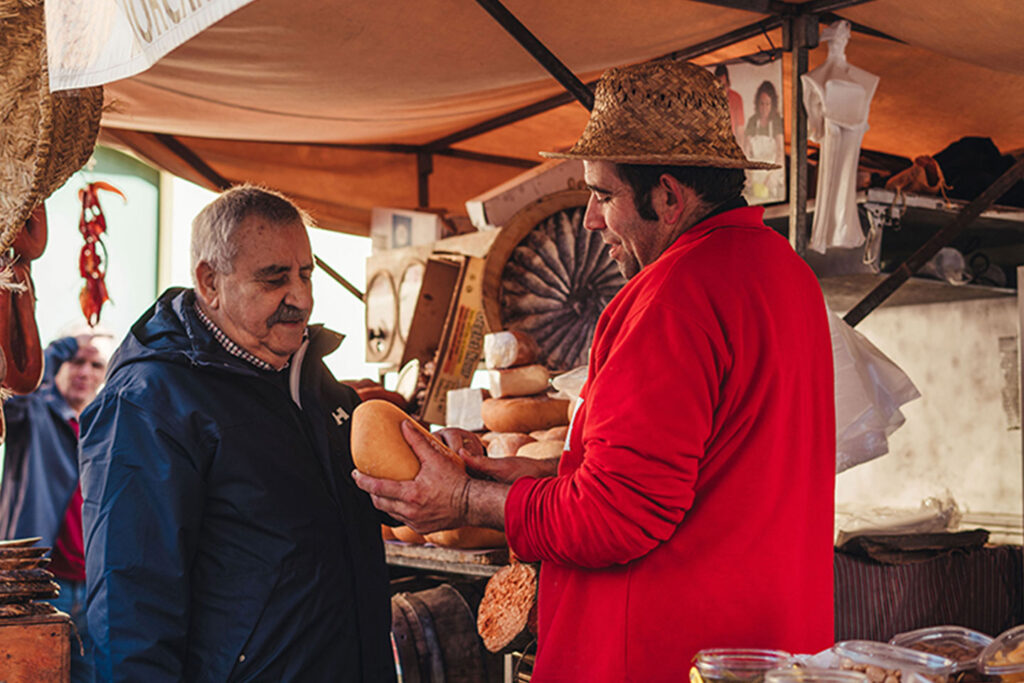 Santa Maria del Camí
Boasting the greatest variety of organic produce sold by local farmers, Santa Maria del Cami Market is for health fanatics looking for chemical-free food.
On Sundays, a huge market takes place in Santa Maria del Cami. From 07:00 until 14:00 everything is sold here, including wonderful fresh fruit and vegetables from all the surrounding farms.
There is even an organic produce section, with local and seasonal fruit, vegetables, cheese, cereals, bread, honey, olive oil… free from chemicals.
Parking takes time but there are large car parks on the three sides of the town and walking to the market square is not far. There are a number of local cafes to sit and watch the market happen, Santa-Maria style.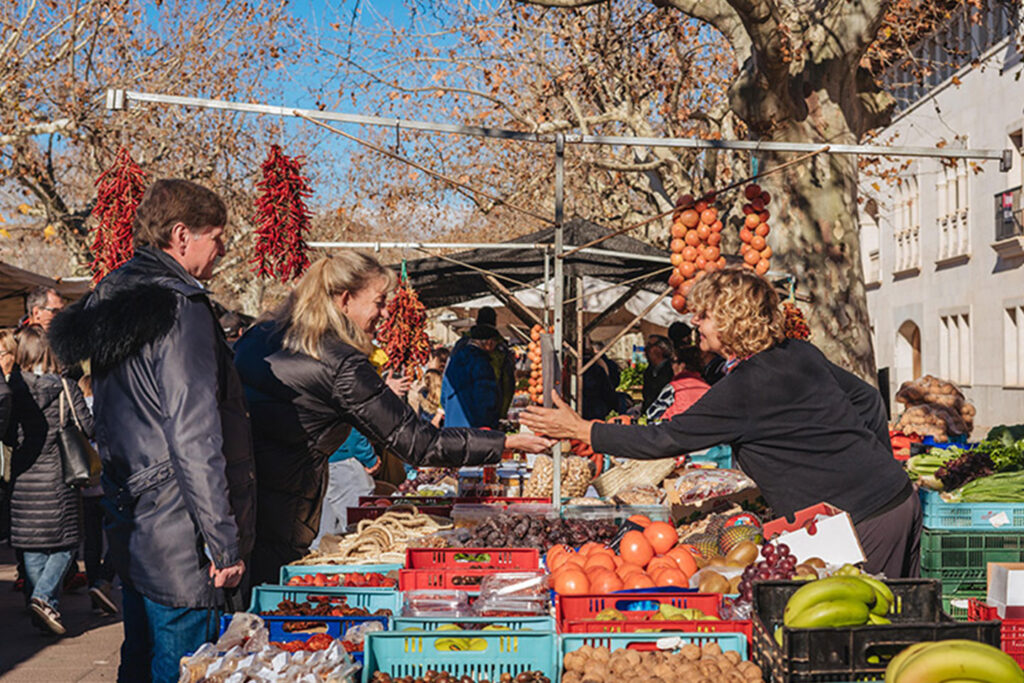 Santanyí Market
Santanyí Market stands out because of its location within the town's narrow winding streets where you can get lost for hours.
Over 150 stalls selling all sorts of fruit and veg, as well as local cheese, olive oil, flowers, clothes and much more every Wednesday and Saturday in Santanyí.
The best market in Mallorca's south, Santanyí market is celebrated in the town centre, around its main square. Fruit and veg, cheese, preserves, cold meats, olives, wine, spirits, flowers, clothes, accessories, homeware, decorations, arts & crafts… here you can find everything and more.