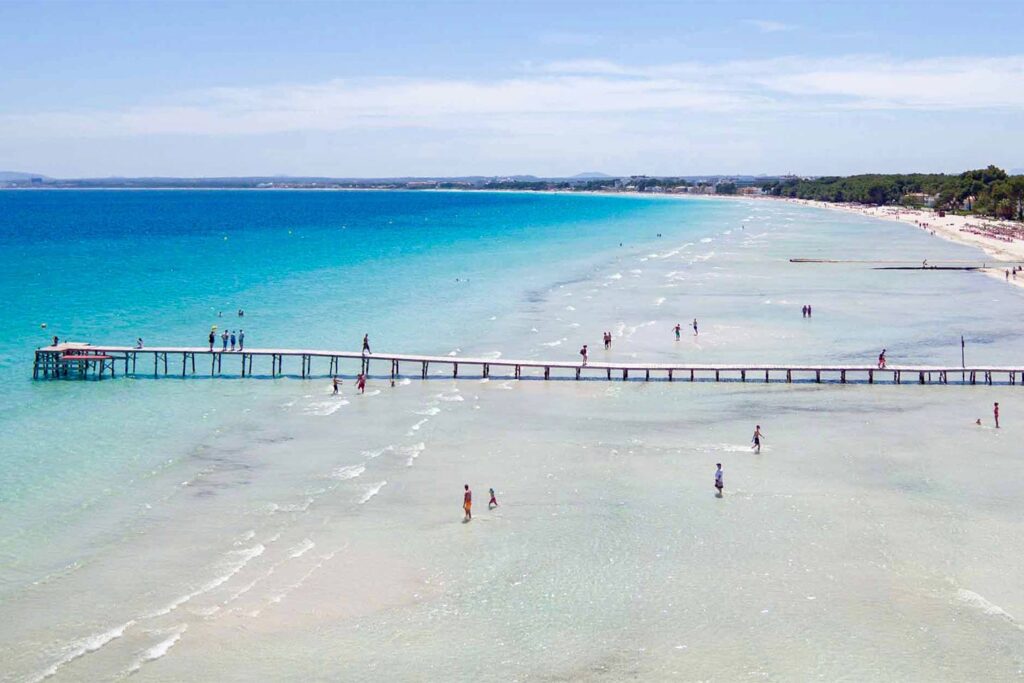 Alcudia is one of the most interesting and picturesque villages of northern Mallorca. Discover our selection of the best spots and beaches in Alcudia and start preparing your suitcase because you'll want to visit
Port d'Alcudia is located on the north coast of Mallorca, approx. 60 km from Palma de Mallorca. The drive from the airport is mostly on the motorway and usually takes less than an hour by car.
Port d'Alcudia beach in general.
The Alcudia bay has a fantastic sand beach! The beach is 10 km long and goes all the way from Ca'n Picafort in the south to Port d'Alcudia in the north.
The beach is widest at Port d'Alcudia, up to 100 metres wide. The sand is golden and fine-grained, and the very shallow water is usually completely calm. It is lovely to splash around in – also for very small kids.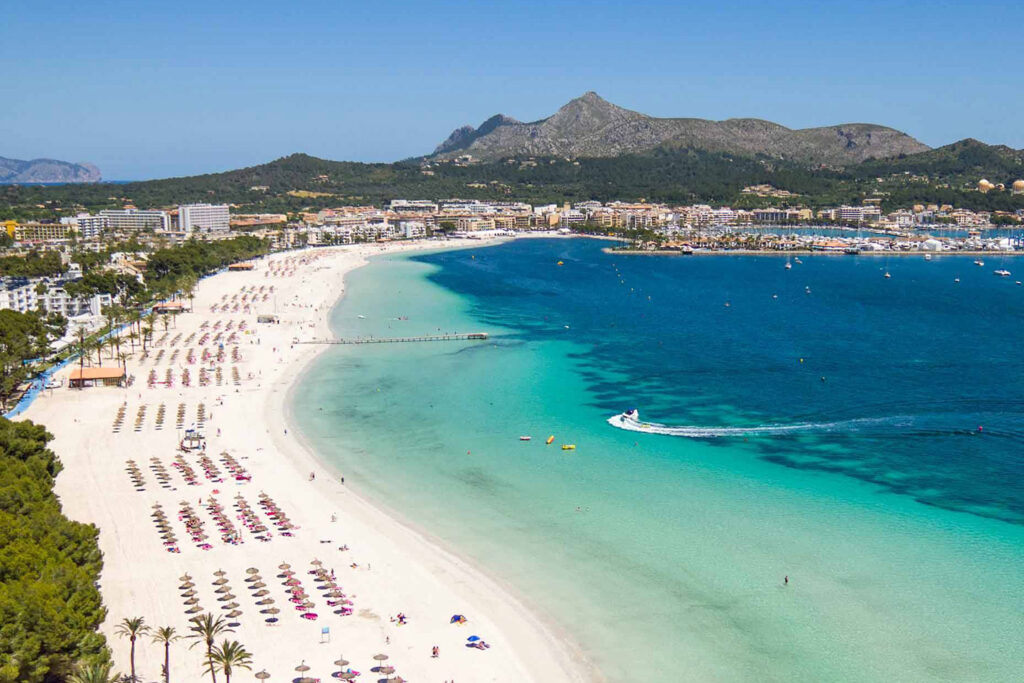 There are many sections where it is possible to rent sun lounges and sunshades, but there is also plenty of room for those, who prefer to lie on their towels. The facilities also include showers and toilets.
Behind the beach, there is a sea front with hotels, restaurants, shops, etc. Here you can buy everything from food and drinks to beach balls and rubber boats.
By the harbour in Port d'Alcudia, there is a large playground. If you come by car, it is possible to park in the streets behind the beach.
Child-friendliness
It doesn't get better than this. The beach in Alcudia has lovely, fine-grained sand an very shallow water. There are rarely any waves.
Water sports
In several places along the beach, you will find all kinds of water sports such as parasailing, water skis, jet skis, water bikes etc.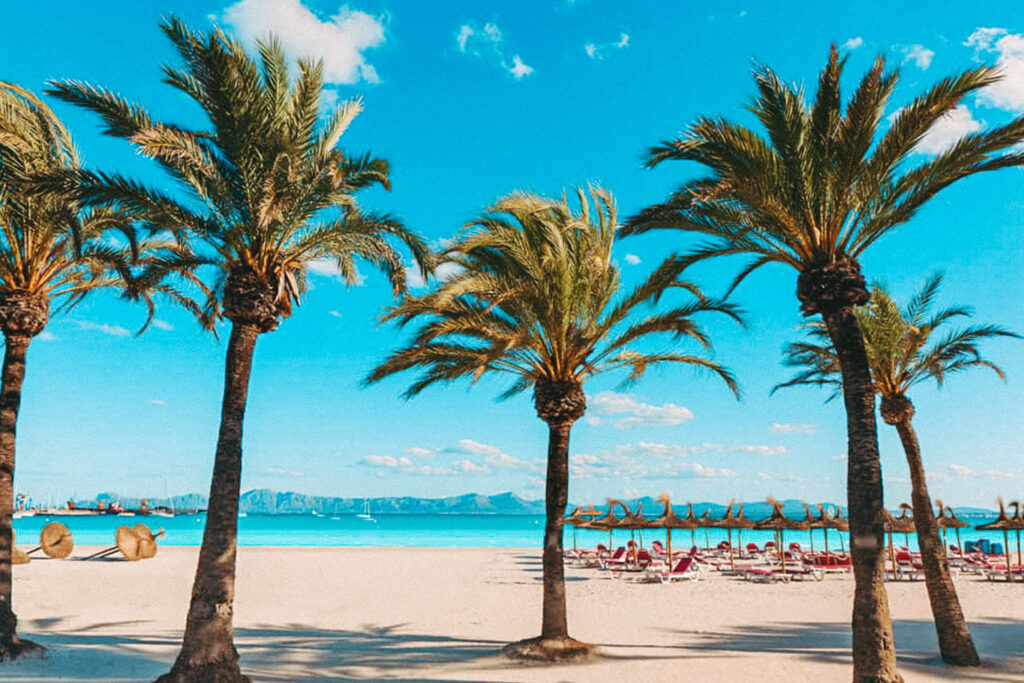 Beach restaurants
There are many restaurants, cafés and bars at the beach in Alcudia. At the beach itself, there are several beach cafés, and there are many more along the sea front and in the streets behind.
Port d'Alcudia is the largest and most popular holiday resort in Mallorca, especially among families with young children. Here they will find all kinds of shops, activities, playgrounds and, not least, the most child-friendly beach in Mallorca.
There is a large number of restaurants in Port d'Alcudia and many of them serve international dishes, but there are also Italian, Chinese, Indian and more traditional Spanish restaurants. Several of the best restaurants are located near the harbour.
In the outskirts of the town, you will find the large Hidropark Alcudia water park. A little further into the country, you will findAlcudia old town, which is one of the greatest tourist attractions in Mallorca.
Between Formentor and Bahía de Pollensa we find this small peblle beach with crystalline waters that has remained intact and retreat from busy tourist beaches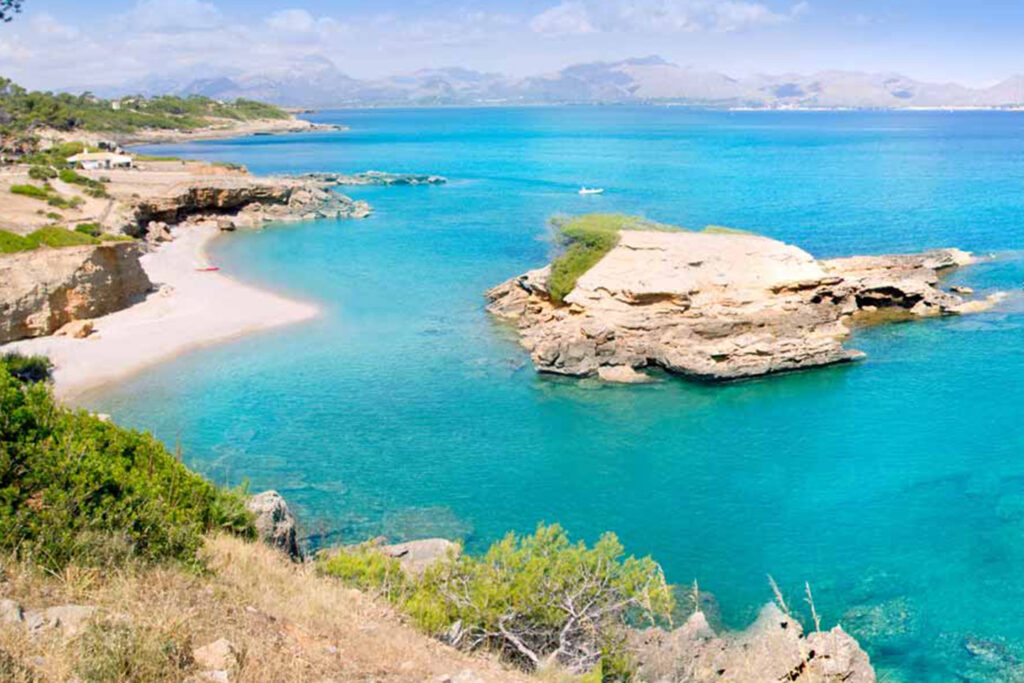 The main attraction of Playa S'Illot is that it remains virtually untouched, with no buildings or facilities along its coast; and also, from its coast can be seen a beautiful islet that gives its name to the beach and protects it from the winds of the Tramontana. Especially recommended for those seeking tranquility and lovers of remote and wild beaches, away from the big crowded ones. This area has a rocky seabed and abundant seagrass meadows. This causes that its waters be especially crystalline, making it a perfect beach for scuba diving or snorkeling as well for canoeing.
The beach consists of round stones and rocks, so it is advisable to wear sandals or beach shoes suitable for not suffering too much when entering the water, as may appear sea urchins.
Near the beach, there is an area of picnic tables, so if you go well prepared, you can spend a fantastic day at the beach there.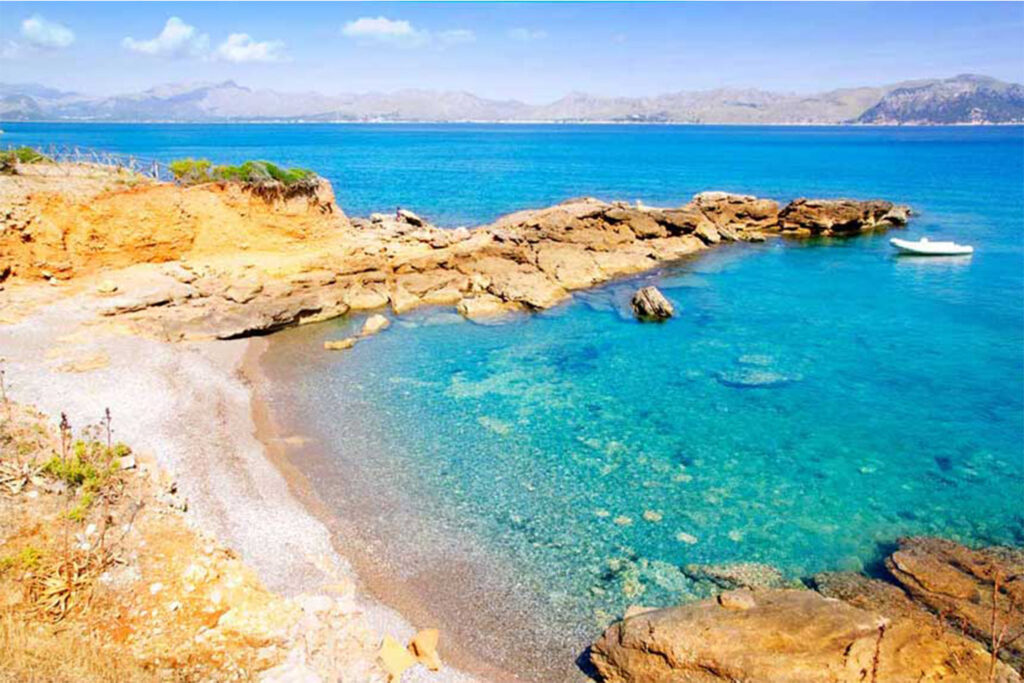 Getting to S'Illot beach
If you go from Alcudia, take the Camí del Mal Pas road for about 2 kilometers until reaching Puerto Deportivo del Cocodrilo or Marina de Bonaire. Once there, turn right and continue for about 2 km more to the Camí Vell de la Victoria until getting to the parking area that we find on both sides of the road.
Information about S'Illot beach:
Type of beach
Lenght: 130m
Width:15
Type of Sand:Pebbles and sand
Acces:Easy acces
More information
Situación. 5 km from Alcudia
Playa de Muro Beach
Playa de Muro has a family friendly and quiet atmosphere. Its waters are calm, clear and shallow; it is the typical beach where you walk meters and meters to the bottom, making it the perfect beach to go with young children.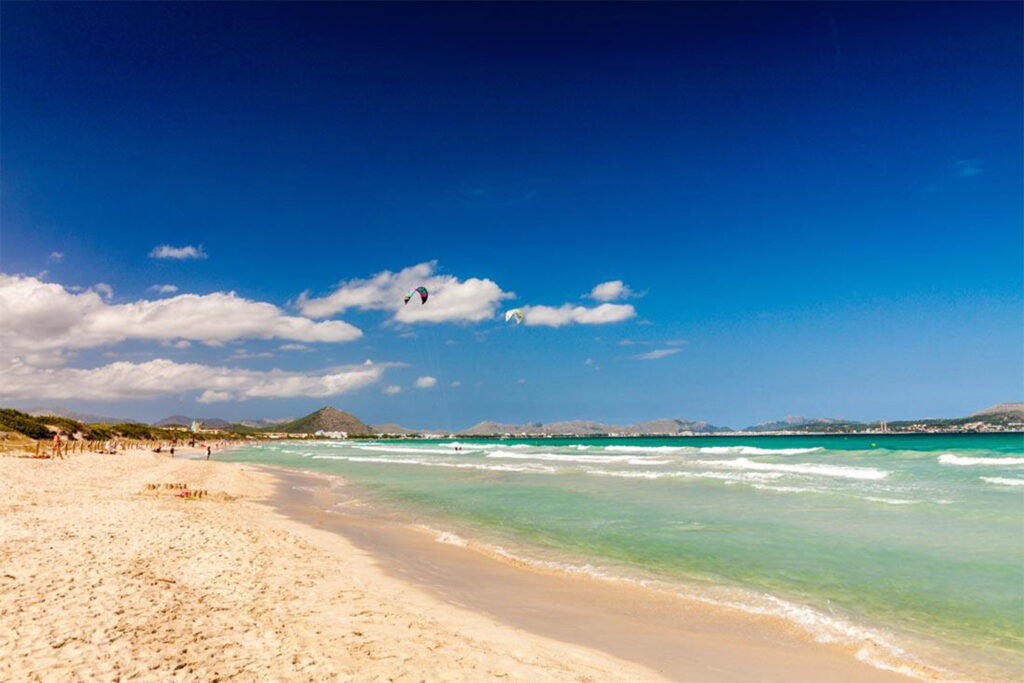 The beach is so long that it has several urbanized sections, with apartment complexes, a large number of restaurants, hotels and all kind of facilities to spend a fantastic day at the beach, but a large part of the beach called Es Comú de Muro is located within the Parque Natural de S'Albufera, so it is a totally protected, wild and unspoiled area. It is an ideal spot for enjoy long walks by the sea feeling you are in a postcard-like beach.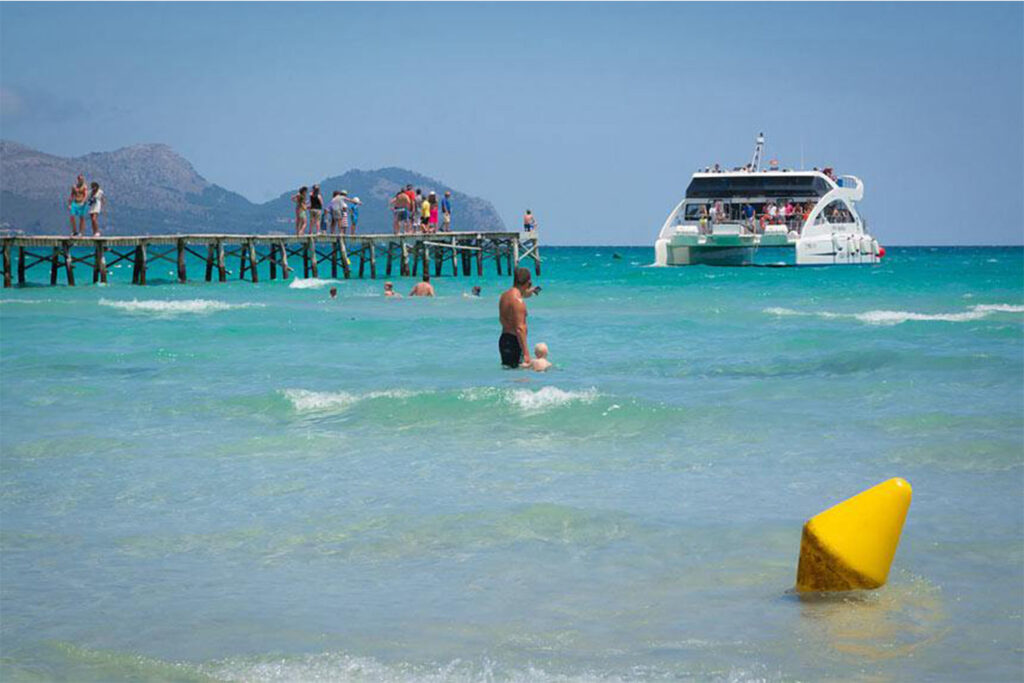 The tourist area offers sunbeds and deck chairs, lifeguard service, showers, toilets, eight walkways for the disabled, leisure activities and fun water sports such as pedal rental, parasailing, inflatable banana floating platforms games for children, etc. Playa de Muro is awarded every year with Blue Flag of the European Union that guarantees its optimum environmental conditions and facility levels.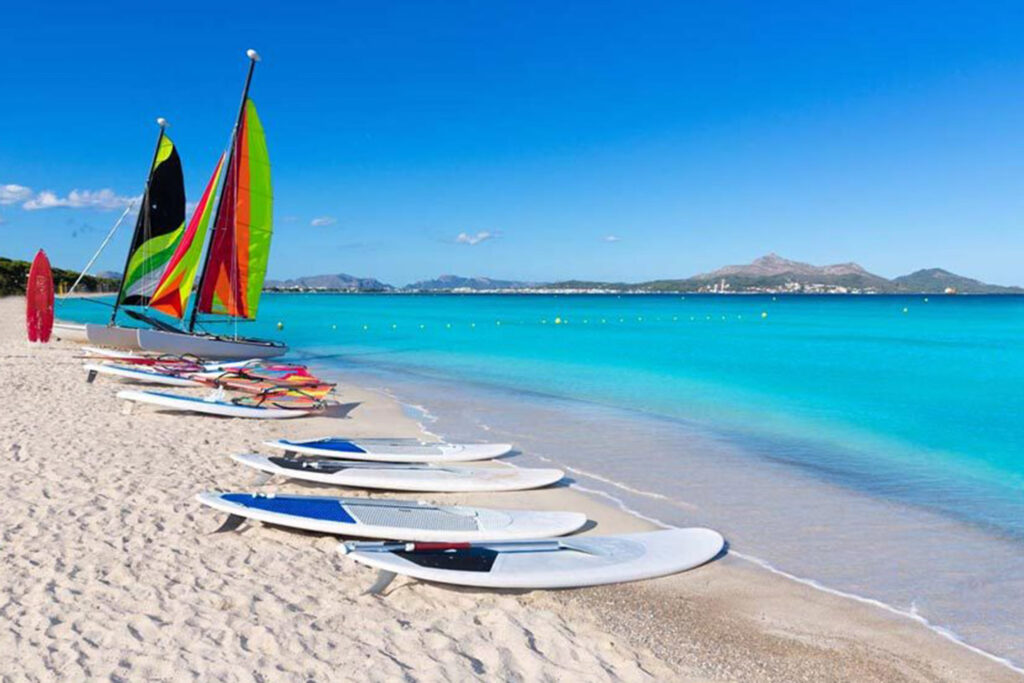 Information about Playa de Muro:
Type of beach
Lenght: 5.5 km lenght.
Widht:40M
Type of sand:Fine and white sand
Servicios: In the residential areas the beach offers bars, restaurantes, sunbeds and parasols to rent
More information
Situación. Alcudia Bay between Can Picafort and Alcudia beach
We like to tell you as as secret where the mallorkan people go to the beach. They are our secret spots.
Have a look to the paradise beach we have in Mallorca.
Caló des Moro
Caló des Moro and Salmunia is one of Mallorca's best kept secrets, which everyone knows. For a long time, this small stretch of fine sand and translucent turquoise waters, is located in Santanyi.
Cala Deià is a beautiful and small rocky beach a little bit away from the popular mountain town of Deià, in the heart of the Serra de Tramuntana, in the northwest of Mallorca. The beach is only 70 meters long.
Enjoy the transparent blue-green waters, the majestic mountainous surroundings, the stone houses and the good food.
We also recommend visiting the picturesque town of Deia and the Ca es Patro Restaurant.
The Coll Baix beach is a virgin beach located 8km from Alcúdia, framed by beautiful cliffs. The beach is only 220 meters long and 50 meters wide and can only be accessed by boat or after a walk along a cobbled path.